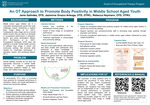 Description
Middle school aged children are in a vulnerable developmental period that pose challenges toward maintaining a positive body image. Consequently, body image can be a mental health concern that can lead to a decrease in occupational performance in education, leisure, and social participation.
School settings currently do not have the appropriate resources or mental health initiatives to address occupational performance problems related to body image with middle school aged youth. However, occupational therapists (OTs) have the potential to provide mental health services to address body image in school and community settings that promote skills needed for meaningful participation in education, leisure, and socializing.
The purpose of this capstone project was to demonstrate OT's value in promoting body positivity through sensory and social emotional learning (SEL) approaches. This capstone experience revealed that school mental health initiatives can recognize how body image can be implemented as tier 1 interventions to promote performance in education, leisure, and social participation with an entire student body.
Publication Date
Spring 4-24-2023
Publisher
University of St. Augustine for Health Sciences
Keywords
occupational therapy, body image, school-based occupational therapy, mental health initiatives, body image, middle school aged youth, interoception, emotional regulation
Medical Subject Headings
Students, Body Image, Pediatrics, Self-Regulation, Occupational Therapy
Disciplines
Occupational Therapy | Public Health Education and Promotion
Recommended Citation
Galindez, J., & Orozco Arteaga, J. (2023, April 24). An Occupational Therapy Approach to Promote Body Positivity in Middle School Aged Youth. Poster presented at the Virtual OTD Capstone Symposium, University of St Augustine for Health Sciences. Retrieved from https://soar.usa.edu/otdcapstonesspring2023/8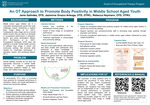 COinS