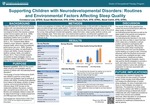 Description
Background: Sleep difficulties are more common among children with neurodevelopmental disorders (NDDs). There is limited research on sleep strategies used by parents of children with NDDs or resources written by occupational therapists. The study examines current sleep concerns and strategies used by parents of children with NDDs, including those affecting time it takes to fall asleep, duration of sleep, routines, and environmental factors that influence sleep.
Method: Parents and caregivers of children with NDDs (n=22) and with no diagnosis (n=6) participated in a survey and optional interview to assess current concerns and strategies used to address sleep. Data gathered included sleep quality, bedtime routines, and sleep strategies. The survey and interview were part of an IRB approved mixed methods study.
Results: Participants listed activities that are part of their child's bedtime routine and strategies that work and do not work to address their child's sleep. Strategies focused on environmental factors such as lighting, noise, and temperature. Participants who reported poorer sleep quality for their child rated poorer sleep quality for themselves.
Conclusion: These results support a consistent bedtime routine along with environmental factors for better sleep quality. Further education and research, especially by occupational therapists, is needed.
Publication Date
Summer 8-12-2021
Publisher
University of St. Augustine for Health Sciences
Keywords
environment, neurodevelopmental disorders, routines, sleep quality
Medical Subject Headings
Neurodevelopmental Disorders, Children, Sleep Initiation and Maintenance Disorders, Surveys and Questionnaires
Disciplines
Developmental Psychology | Occupational Therapy | Sleep Medicine
Recommended Citation
Lew, C., MacDermott, S., Park, K., & Cohill, B. (2021, August 12). Supporting Children with Neurodevelopmental Disorders: Routines and Environmental Factors Affecting Sleep Quality. Poster presented at the Virtual OTD Capstone Symposium, University of St Augustine for Health Sciences. Retrieved from https://soar.usa.edu/otdcapstonessummer2021/5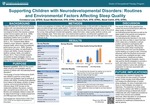 COinS