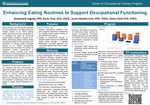 Description
As the prevalence of serious mental illness becomes more widespread annually, eating habits have become more recognized as a modifiable risk factor on worsening mental health symptoms (Godos et al., 2020). Eating routines are food-based activities that occur daily, weekly, monthly, and across the lifespan (Green et al., 2021). Food-based activities include obtaining food, preparing food, eating food, and more. Challenges with eating routines are prevalent in individuals in the earlier stages of mental illness (Teasdale et al., 2020). Evidence shows gaps in graduating occupational therapy students and comfortability with addressing eating routines (Wingo et al., 2018).
The purpose of this capstone project was to develop a program based on current literature and relevant theory to enhance eating routines for individuals impacted by mental health concerns. The program aimed to promote healthy eating habits and provide insight on how to create sustainable and meaningful lifestyle changes that are accessible to individuals impacted by mental health concerns. The project also explored the role of occupational therapy in addressing eating routines in the mental health setting. The theoretical frameworks used throughout the development and implementation of the program were Lifestyle Redesign®, the Social Ecological Model, the Health Belief Model, and the Transtheoretical Model of Behavior Change.
The program took place at Kickstart San Diego. Kickstart is a mental health prevention and early intervention program that serves individuals ages ten to twenty-five who have experienced or may be at risk for experiencing symptoms of psychosis. A mixed methods needs assessment survey and structured observations were completed at this site. The "Eating for Occupation" program was developed to focused on increasing health literacy and promoting occupational functioning. The program consisted of two components: a 4-week group and one on one sessions. The groups and individualized sessions covered different topics and interventions such as general health education, food and mood logging, cooking skills, food handling skills, cooking safety, food exploration, meal preparation, meal planning, self-motivation, mindful eating, and more. Outcomes were measured with Pre and Post Test at the start and end of each group session. Client reports were also recorded for one-on-one sessions. Outcomes included increased health literacy and awareness of eating routines with improved confidence in skills such as cooking, meal planning, and meal preparation.
Occupational therapists (OTs) have the skills and abilities to increase health literacy in mental health settings. OT's role can expand in this area of practice. Separate from dietetics and nutritionists, OTs can use theories and practice frameworks when developing sustainable and meaningful eating routines that are unique and individualized. Group sessions and individualized sessions are both effective ways for OTs to address improving eating routines for individuals 16 to 25 with a mental health diagnosis. A long-term outcome would be improvements in mental health and quality of life, which was not possible to measure during this short period of time. The short-term outcomes of this project hold value and should be considered by the field of occupational therapy.
Publication Date
Summer 8-12-2021
Publisher
University of St. Augustine for Health Sciences
Medical Subject Headings
Occupational Therapy, Dietetics, Feeding Behavior, Transtheoretical Model, Psychotic Disorders, Surveys and Questionnaires, Needs Assessment
Disciplines
Dietetics and Clinical Nutrition | Mental Disorders | Occupational Therapy
Recommended Citation
Sughair, A., Park, K., MacDermott, S., & Cohill, B. (2021, August 12). Enhancing Eating Routines to Support Occupational Functioning. Poster presented at the Virtual OTD Capstone Symposium, University of St Augustine for Health Sciences. Retrieved from https://soar.usa.edu/otdcapstonessummer2021/13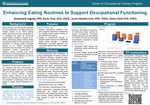 COinS