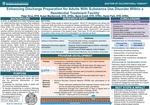 Description
The community reintegration process is a vital aspect of the recovery journey, which requires sufficient planning and preparation prior to discharge from treatment (Read & Stoffel, 2019). Individuals enrolled in a residential treatment program for SUD indicated that higher levels of assistance and preparation during the transition to community living and involvement in comprehensive discharge planning would better prepare them for community reintegration (Manuel et al., 2017). Historically, the role of occupational therapy (OT) with this population has been to facilitate the resumption of meaningful roles, identify supportive habits and routines, and address executive functioning deficits related to SUD (Champagne & Gray, 2016; Rojo-Mota et al., 2017).
The purpose of this capstone project was to conduct a research study in order to determine OT interventions utilized with adults with SUD and the perceived effectiveness of those interventions, to evaluate the discharge needs of adults with SUD receiving residential treatment, and to develop programming to enhance discharge preparation and utilize the preliminary findings of the research study to advocate for the role of OT at a SUD treatment facility.
A qualitative research study was designed and conducted with occupational therapy practitioners (OTP) from across the country to examine the question: "which OT interventions are utilized with adults with SUD and what are practitioners' perceptions of their effectiveness?" There were a total of 15 OTP who participated in the 24-question online survey and two who participated in an interview via Zoom. Data was analyzed using Braun and Clarke's (2006) thematic analysis and three overarching themes emerged: variety of interventions utilized, awareness of recovery supports and barriers, and continuum of care transitions. A needs assessment was conducted with adults receiving residential treatment for SUD at Gateway Foundation in Aurora, Illinois to determine discharge needs for community reentry. Interviews were conducted with 29 clients, which yielded the following needs: the importance of routines to support recovery and structure time, the establishment of sleep hygiene routines to improve sleep quality, opportunities to engage in meaningful roles, integration of skill application and practice, and stress management and self-advocacy skills for the workplace. Observation conducted at Gateway Foundation indicated the need for a framework for clients to utilize in order to write measurable goals and structured free time to promote the exploration of meaningful and purposeful activities while still in the treatment environment.
Programming recommendations were given to Gateway Foundation in the form of enhancements to the current program and the development of a new group in order to meet the identified needs of the clients. The recommendations include a goal writing and setting workshop, suggested implementation of structured free time, opportunities for skill application, and integration of the routines and time management group developed. The preliminary results of the research study were incorporated into programming recommendations, used to articulate the value of OT when working with the SUD population, and advocate for the inclusion of an occupational therapist on the team at Gateway Foundation.
Publication Date
Summer 8-12-2021
Publisher
University of St. Augustine for Health Sciences
Keywords
Occupational Therapy, Substance-Related Disorders, Patient Discharge, Residential Treatment, Surveys and Questionnaires, Needs Assessment, Adult
Medical Subject Headings
Occupational Therapy, Substance-Related Disorders, Patient Discharge, Residential Treatment, Surveys and Questionnaires, Needs Assessment, Adult
Disciplines
Clinical Psychology | Occupational Therapy
Recommended Citation
Virva, P., MacDermott, S., Cohill, B., & Park, K. (2021, August 12). Enhancing Discharge Preparation for Adults With Substance Use Disorder Within a Residential Treatment Facility. Poster presented at the Virtual OTD Capstone Symposium, University of St Augustine for Health Sciences. Retrieved from https://soar.usa.edu/otdcapstonessummer2021/12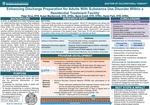 Included in
COinS