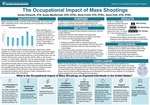 Description
Background: As mass shootings continue to persist in the United States, their occupational impact on victims needs to be understood. The psychosocial and physical tolls of mass shootings have been investigated, but research related to the occupational impact was not found.
Objective: The purpose of this study was to examine stories shared by survivors of mass shootings to determine whether changes in occupational participation, performance, and fulfillment of meaningful roles and performance patterns occurred following the incident.
Methods: The question "What is the occupational impact of mass shootings on exposed individuals in the United States?" was asked. A qualitative research design employing unobtrusive methods was used to collect and analyze publicly accessible audiovisual and written records containing stories from victims of mass shootings. Themes were developed through thematic analysis.
Results: Victims at varying degrees of association to the event experienced changes in their occupational performance, participation, and fulfillment of performance patterns. Eight themes encapsulated the common areas of concern expressed by individuals.
Conclusion: Occupational therapists need to be aware of victims of mass shootings' needs to ensure their receipt of appropriate care. Future research on occupational therapy practitioners' role in working with this population is needed.
Publication Date
Summer 8-12-2021
Publisher
University of St. Augustine for Health Sciences
Keywords
Occupational Therapy, Mass Casualty Incidents, Firearms, Survivors, Mental Health, Social Participation, Qualitative Research
Medical Subject Headings
Occupational Therapy, Mass Casualty Incidents, Firearms, Survivors, Mental Health, Social Participation, Qualitative Research
Disciplines
Mental and Social Health | Occupational Therapy
Recommended Citation
Ellsworth, A., MacDermott, S., Cohill, B., & Park, K. (2021, August 12). The Occupational Impact of Mass Shootings. Poster presented at the Virtual OTD Capstone Symposium, University of St Augustine for Health Sciences. Retrieved from https://soar.usa.edu/otdcapstonessummer2021/1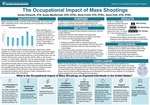 COinS