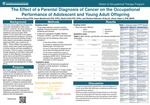 Description
Objective: To gain an understanding on the current knowledge and practice of OTs relating to the occupational impact that a parental diagnosis of cancer can have on AYA offspring. In addition, to determine if there is occupational disruption or imbalance impacting AYAs whose parents have cancer and if OT is a good fit to treat this population.
Methods: A scoping literature review was conducted gathering relevant peer-reviewed articles, analyzing and creating themes with the current literature. In tandem with the scoping review, a qualitative study was conducted. Eight occupational therapists working in either an oncology care setting or pediatric setting were interviewed. Interviews were audio-recorded and transcribed verbatim, and analyzed using thematic analysis.
Results: The scoping review yielded 28 articles that met the inclusion criteria of this study. The articles were then organized in a table based on terms related to the OTPF- ADLs, IADLs, education, work, play/leisure, social participation, roles, routines, and rituals. Six dominant themes emerged from occupational therapists' responses to questions about their knowledge and experiences with adolescent and young adult offspring with a parent diagnosed with cancer: occupational performance, roles/rituals/routines, scope of practice, assessments and treatment, barriers, and support systems. Participants believed that performance in all occupations including ADLs, IADLs, education, work, play/leisure, and social participation could potentially be impacted due to a parental diagnosis of cancer.
Conclusions: Throughout the scoping review and interview process, many themes were found relating a parental diagnosis of cancer to changes in the occupations and performance patterns of AYA offspring. There is evidence that shows that occupations such as IADLs, education, play and leisure and social participation become imbalanced after a parental diagnosis of cancer. Performance patterns such as roles and routines are also heavily disrupted with AYA offspring taking on a caregiver or parental role in their families. Current occupational therapists see the significance of treating this population. With continued research into this impact, we can make a case for occupational therapists to continue to expand into the emerging practice of oncology.
Publication Date
Summer 8-14-2020
Publisher
University of St. Augustine for Health Sciences
Medical Subject Headings
Adolescent; Oncology, Patients, Parents, Occupations, Interviews, Occupational Therapy
Disciplines
Occupational Therapy | Oncology | Psychiatry and Psychology
Recommended Citation
Wong, B., MacDermott, S., Cohill, B., & Patterson, P. (2020, August 14). The Effect of a Parental Diagnosis of Cancer on the Occupational Performance of Adolescent and Young Adult Offspring. Poster presented at the Virtual OTD Capstone Symposium, University of St Augustine for Health Sciences. Retrieved from https://soar.usa.edu/otdcapstonessummer2020/6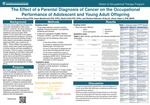 COinS