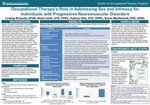 Description
Individuals with progressive neuromuscular disorders (PND); specifically, Parkinson's disease (PD), Multiple Sclerosis (MS), Huntington's Disease (HD), and Amyotrophic Lateral Sclerosis (ALS) often face physical, psychological, and social challenges related to sex and intimacy. Occupational therapy (OT) practitioners are experts in activity analysis and are equipped with unique knowledge of performance skills and client factors to address deficits in occupational performance. Though there is literature presenting the effects of PND on sexual occupations, a gap exists as it relates to qualitative data from the perspective of the individual and their partners.
A mixed-methods survey was conducted examining the lived experience of adults with progressive neuromuscular disorders to inform programming addressing intimate and sexual needs. Themes were identified from study results in order to inform an evidence-based program addressing sexual and intimate participation and enhance relationships.
This research reaffirmed that sexual occupations should not go unaddressed as these can be beneficial not only to the individual patient's well-being, but their partnership and social domains as well. Occupational therapists can facilitate meaningful participation in sexual occupations for these individuals by addressing: their unique physical barriers through positioning and adaptations, providing stress management strategies for both internal and external stressors, and facilitating positive communication between individuals with PND and their partners. The findings from this study support an increased role for OT practitioners in the domain of sexuality.
Publication Date
Summer 8-14-2020
Publisher
University of St. Augustine for Health Sciences
Medical Subject Headings
Occupational Therapy, Sexual Behavior, Parkinson Disease, Huntington Disease, Surveys and Questionnaires
Disciplines
Gender and Sexuality | Neurology | Occupational Therapy
Recommended Citation
Richards, L. N., Cohill, B., Ellis, K., & MacDermott, S. (2020, August 14). Occupational Therapy's Role in Addressing Sex and Intimacy for individuals with Progressive Neuromuscular Disorders. Poster presented at the Virtual OTD Capstone Symposium, University of St Augustine for Health Sciences. Retrieved from https://soar.usa.edu/otdcapstonessummer2020/10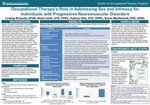 COinS