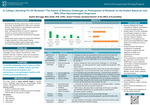 Description
Neurodiversity describes unique ways in which an individual's brain works, impacting skills such as executive function, social interaction, communication, and sensory processing. Sensory processing describes the system which receives, processes, organizes, and responds to sensory information received in several environments throughout the day. Sensory sensitivity involves both over- and under-responsiveness to sensory information received, both causing an impact on one's participation. An occupational area that seems to lack support for sensory challenges is that of postsecondary, or college, settings.
Several policies exist to protect the right to equal education for students with disabilities, however, these protections only last until students have graduated high school or turned 21 years old. For those neurodivergent students planning to go on to college, there is a great lack of support for the unique sensory challenges they prepare to face.
Sensory challenges interfere with the participation and performance of neurodivergent college students, not only in their academic efforts, but in other areas of occupation such as social interaction, sports, and leisure activity. It is currently unknown how to support the sensory challenges of neurodivergent college students.
Publication Date
Spring 5-17-2023
Publisher
University of St. Augustine for Health Sciences
Keywords
Sensory processing, neurodiversity, college environment, environment, sensory challenges, hypersensitivity, hyposensitivity, neurodivergent college students, occupational participation, postsecondary education
Medical Subject Headings
Autism Spectrum Disorder; Sensory Processing Disorders; Education; Universities; Public Policy; Ethics; Occupational Therapy
Disciplines
Education Policy | Higher Education Administration | Mental and Social Health | Occupational Therapy
Recommended Citation
Starvaggi, S., & Smith, M. (2023, May 17). Is College Liberating For All Students? The Impact of Sensory Challenges on Participation of Students on the Autism Spectrum and With Other Neurodivergent Diagnoses. Poster presented at the Virtual OTD Capstone Symposium, University of St Augustine for Health Sciences. Retrieved from https://soar.usa.edu/otdcapstonesspring2023/35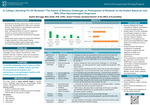 COinS