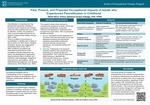 Description
Background: Parentification is a functional and/or emotional role reversal where the child sacrifices their own needs for attention, comfort, and guidance in order to accommodate and care for the needs of a parent and/or sibling. OTs need an understanding of how to recognize and support the impact of parentification during childhood, adolescence, and adulthood.
Methods: Mixed methods were used to explore the experience of adults (18-65) that served as caregivers for their sibling(s), and/or their parent(s) during their childhood/adolescence. Quantitative and qualitative data were collected through questionnaires (N=20) and interviews (n=6), allowing for a deeper understanding of the pattern of occurrence of instrumental/ emotional caregiving and a person-centered body of knowledge on the lasting impacts of this role into adulthood and projected occupational engagement.
Results: Incidences of instrumental and emotional parentification increased from childhood to adolescence. Qualitative themes that emerged were the emotional toll of emotional caregiving, the need for control, delayed self-prioritization, and contributions to identity.
Conclusion: The findings highlight the continual impact of parentification from childhood into adulthood. Further research is needed to understand the potential for OT involvement in the treatment of children and adults who experienced parentification.
Publication Date
Spring 5-21-2023
Publisher
University of St. Augustine for Health Sciences
Keywords
occupational therapy, parentification, caregivers, emotional caregiving, self-prioritization
Medical Subject Headings
Caregivers, Self-Care, Occupational Therapy, Surveys and Questionnaires
Disciplines
Occupational Therapy | Other Psychiatry and Psychology
Recommended Citation
Vanni, O., & Orozco-Arteaga, J. (2023, May 21). Past, Present, and Projected Occupational Impacts of Adults who Experienced Parentification in Childhood. Poster presented at the Virtual OTD Capstone Symposium, University of St Augustine for Health Sciences. Retrieved from https://soar.usa.edu/otdcapstonesspring2023/15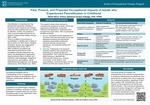 COinS