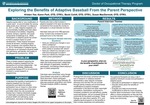 Description
Sports can be an integral part of a child and adolescent's life; however, those with disabilities, regardless of severity, are less likely to participate in organized sports compared to their peers. Adaptive sports accommodate the varying ability levels of individuals through environmental modifications or the use of specialized equipment.
The purpose of this project was to understand the benefits of participation in adaptive baseball from the parent perspective to increase awareness of the sport and better inform the role occupational therapy has in helping individuals engage in meaningful occupations that promote health and well-being, social participation, and a sense of belonging.A qualitative study was performed through virtual interviews with parents from around the United States.
Themes revealed the impact participation in adaptive baseball had on the child's sense of self-efficacy and participation in school as well as an increased sense of community and opportunity for new social relationships for both the parent and player.
This project also consisted of a separate quantitative study that focused on exploring the impact of the COVID-19 pandemic on athletes across the country to better inform the role of occupational therapy in helping athletes adjust to new life transitions within the community. The COVID-19 virus led to a global pandemic that disrupted sport participation and left many athletes with increased feelings of fear and anxiety and decreased self-identity. A quantitative study was performed through online surveys to gain the perspective of how the pandemic has impacted current athletes from across the United States.
Results highlighted the athletes' current emotions and challenges due to reduced sport participation. Both athletes and sports organizations remain resilient and flexible towards a new normal.
Publication Date
4-15-2021
Publisher
University of St. Augustine for Health Sciences
Medical Subject Headings
Sports for Persons with Disabilities, Baseball, Adolescent, Athletes, Social Participation, Parents, Occupational Therapy, Surveys and Questionnaires
Disciplines
Occupational Therapy | Rehabilitation and Therapy | Sports Sciences
Recommended Citation
Yee, K., Park, K., Cohill, B., & MacDermott, S. (2021, April 15). Exploring the Benefits of Adaptive Baseball From the Parent Perspective / Exploring the Impact of the COVID-19 Pandemic on Athletes. Poster presented at the Virtual OTD Capstone Symposium, University of St Augustine for Health Sciences. Retrieved from https://soar.usa.edu/otdcapstonesspring2021/3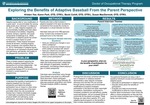 Included in
COinS