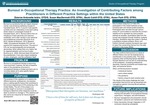 Description
Burnout is a syndrome that can impact physical, mental, and emotional wellbeing (Cooper & Campbell Quick, 2017). It occurs in job-specific contexts and can materialize in any work setting where stress is unmanaged (Cooper & Campbell Quick, 2017). Burnout stems from an imbalance of work demands and resource availability, and it often results in poor personal and professional outcomes (Donovan et al., 2010; Glicken & Robinson, 2013; Maslach, 1998). Occupational therapists (OTs) are not exempt from experiencing burnout. The work of OTs can be psychologically and emotionally demanding, which places them at a higher risk for depersonalization and burnout (Lopez Munhoz et al., 2020). Burnout does not just hurt the practitioners; it can also impact recipients of care, employers, and the profession itself.
The purpose of this study is to investigate what personal, professional, and practice area or setting-specific factors contribute to the burnout experiences of OTs practicing in the United States. The study aims to provide insight on burnout in occupational therapy to determine what measures could be taken to prevent or manage it. It will also serve as a resource for future program development.
One hundred ninety-four (n=194) OTs participated in this mixed-methods survey including open and closed-ended questions. Participants were recruited through various online OT communities to maximize the survey's visibility and to represent as many practice settings as possible.
Of the 194 participants, only 17 did not self-identify to have experienced burnout. The 17 participants still contributed to the rest of the survey and provided their input on potential personal and setting-specific factors that contribute to burnout in occupational therapy. 13 occupational therapy practice areas were represented in this study. The practice areas include academia, assisted living facility, forensics, general outpatient, general home health, pediatric home health, hospital-based rehab, psych& mental health, outpatient hands, pediatrics, school-based, skilled nursing facility, and travel therapy. The data confirms that burnout is a result of different factors and can be experienced by practitioners in any practice area. This study supports initial contributing factors identified through literature such as lack of understanding of the profession, increasing professional demands, financial constraints and student loan debt, and personal factors. Other contributing factors that emerged from this study include institutional factors, including factors unique to each represented practice area or specialty; work culture-related, and factors related to the COVID-19 pandemic.
Burnout cannot be fixed by generic wellness programming alone. Future programming should be focused on the training and education of occupational therapy supervisors, managers, and administrators. Burnout management and prevention should also be tackled in personal and institutional levels. Additionally, early intervention through the integration of burnout education in OT curricula should be considered.
Publication Date
4-15-2021
Publisher
University of St. Augustine for Health Sciences
Medical Subject Headings
Burnout, Professional; Occupational Stress; Occupational Therapists, Surveys and Questionnaires
Disciplines
Industrial and Organizational Psychology | Occupational Therapy | Psychology
Recommended Citation
Isidro, Z. A., MacDermott, S., Cohill, B., & Park, K. (2021, April 15). Burnout in Occupational Therapy Practice: An Investigation of Contributing Factors among Practitioners in Different Practice Settings within the United States. Poster presented at the Virtual OTD Capstone Symposium, University of St Augustine for Health Sciences. Retrieved from https://soar.usa.edu/otdcapstonesspring2021/16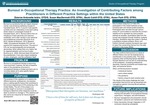 COinS