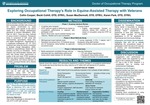 Description
Equine-assisted therapy (EAT) is a treatment that incorporates activities with a horse and the equine environment to reach rehabilitative goals specific to the client's needs and the medical professional's standards of practice (Meregillano, 2004; Path Int, 2021). There are many methods of using a horse in treatment. Therapeutic riding is a component of EAT, as well as horsemanship, groundwork, horse care, and stable management. Hippotherapy is a healthcare professional (OT, PT, SLP) treatment tool that occupational therapists (OT) use the horse's movement to facilitate change (Meregillano, 2004). Some research has demonstrated veterans who work with horses show improvement in quality of life and lower PTSD symptoms, leading to positive changes in self-care, productivity, and leisure (Johnson et al., 2018; Lanning & Krenek, 2013; Olenick et al., 2018).
Using the Model of Human Occupation and Person-Environment-Occupation Model, the purpose of this capstone project was to determine OT's role in EAT with veterans to increase occupational engagement in a safe and supportive equine environment, which will allow the veteran to heal. There is a gap in the research related to OT's role in EAT with the veteran population. Using EAT, OTs can individualize treatment sessions to provide benefits in physical, mental, and emotional aspects of veteran lives.
This capstone project consisted of three phases of data collection. Phase one was the scoping literature review focused on answering the question: What was the occupational impact of working with equines on the veteran population. Five electronic databases were searched with search terms including equine-assisted therapy and veterans and acceptable related terms such as hippotherapy, therapeutic riding, and EAGALA. Due to the fact, there is little occupational therapy-based research, the OTPF was used as a guide to identifying terms related to OT practice to determine any impact on occupational performance in veterans who participate in EAT. Twelve articles were reviewed after meeting the inclusion criteria. Phase two consisted of a mixed-methods survey to learn the perspective of 11 participants, which included OTs using hippotherapy, veterans, and therapeutic riding staff. Phase three consisted of conducting four informal interviews with stakeholders to perform a needs assessment relative to EAT and veterans. Three main themes were revealed following a thorough thematic analysis process. Veterans who participated in EAT experienced a positive impact on occupational performance. Occupational therapists do have a role in EAT with veterans to contribute to the success of programs and client occupational performance. However, several barriers to practice include funding, reimbursement, and governing equine organization disagreement.
This capstone project attempts to promote advocacy for EAT and veterans via a fieldwork proposal to allow opportunities for OT students at USAHS to develop clinical skills in a non-traditional treatment setting with veterans and horses. Further research is needed on the impact of occupations in an equine environment relative to OT practice and research related to finding solutions to the identified barriers found in this project. Advocating to the American Hippotherapy Association to establish supported veteran programming to ensure OTs can use the power of horses to provide care to veterans in need.
Publication Date
4-15-2021
Publisher
University of St. Augustine for Health Sciences
Medical Subject Headings
Equine-assisted Therapy, Veterans, Stress Disorders, Post-Traumatic, Occupational Therapy, Needs Assessment, Surveys and Questionnaires
Disciplines
Counseling Psychology | Military and Veterans Studies | Occupational Therapy
Recommended Citation
Cooper, C., Cohill, B., MacDermott, S., & Park, K. (2021, April 15). Exploring Occupational Therapy's Role in Equine-Assisted Therapy with Veterans. Poster presented at the Virtual OTD Capstone Symposium, University of St Augustine for Health Sciences. Retrieved from https://soar.usa.edu/otdcapstonesspring2021/11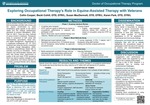 COinS