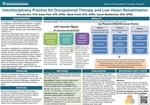 Description
The purpose of this capstone project was to advocate occupational therapy in low vision rehabilitation for improved access to low vision rehabilitation (LVR) for the adult population. However, due to COVID-19 pandemic, this capstone project shifted to a research study assessing limiting factors for occupational therapy collaboration with low vision services and exploring eye physician's perception on low vision occupational therapy.
A mixed-methods survey was conducted to explore 54 eye physicians including Doctor of Medicine (MD) specialized in ophthalmology and Doctor of Optometry (OD)'s perception on the role of low vision occupational therapy, benefit of low vision occupational therapy, current referral status with low vision clients, and perceived barriers that limit collaboration. Three primary themes emerged during the analysis phase: (1) Doctors experienced barriers collaborating with low vision occupational therapy (LVOT), (2) Doctors had a good understanding on the role of LVOT, and (3) Doctors perceived LVOT as an integral low vision team member.
A qualitative study was conducted to assess 4 LVOT practitioners' experience collaborating with LVR team members, perceived barriers providing services, and perceived needs for improvement. Three themes emerged during the analysis phase: (1) LVOT experienced a lack of knowledge on the role of LVOT by other professionals, (2) a lack of LVOT practitioners from limited job opportunity, and (3) a lack of training on low vision to become LVOT.
Additional needs assessment interviews were conducted to gain in-depth understanding of ophthalmology and optometry perspective on barriers that limit collaboration with LVOT and future direction of low vision rehabilitation.
The care coordination in multidisciplinary and interdisciplinary LVR was complex and multifactorial. Future research should continue to explore and examine perception on low vision occupational therapy by other vision staff at non-profit organizations and other medical staff and management at the hospitals. This will be a vital next step in creating an interprofessional practice model for occupational therapy and low vision rehabilitation that is applicable to various settings including hospitals and non-profit organizations.
Publication Date
4-15-2021
Publisher
University of St. Augustine for Health Sciences
Medical Subject Headings
Vision, Low, Occupational Therapy, Optometry, Opthalmology, Needs Assessment, Referral and Consultation, Surveys and Questionnaires,
Disciplines
Occupational Therapy | Ophthalmology | Optometry
Recommended Citation
Gim, P., Park, K., Cohill, B., & MacDermott, S. (2021, April 15). Interdisciplinary Practice for Occupational Therapy and Low Vision Rehabilitation. Poster presented at the Virtual OTD Capstone Symposium, University of St Augustine for Health Sciences. Retrieved from https://soar.usa.edu/otdcapstonesspring2021/10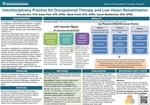 COinS