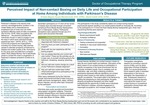 Description
The aim of this project was to determine whether individuals with Parkinson's disease perceive an impact on their daily life and occupational participation at home secondary to participation in non-contact boxing.
Semi-structured open-ended interview questions were conducted with 17 participants (3 female) who have been diagnosed with Parkinson's disease for(i.e., self-care, home and health maintenance, sleep, intimacy, social and leisure interests, etc.) in the home environment. Interviews were transcribed and analyzed utilizing thematic analysis.
Data analysis derived three overarching themes including psychological benefits, sense of community, and framework to develop routines. Subsequent research exploring how non-contact boxing directly impacts specific occupations completed in the home environment would further support this study.
Publication Date
Spring 4-23-2020
Medical Subject Headings
Occupational Therapy, Parkinson Disease, Boxing, Self Care, Activities of Daily Living
Disciplines
Occupational Therapy
Recommended Citation
Bignal, K. E., MacDermott, S., & Cohill, B. (2020, April 23). Perceived Impact of Non-contact Boxing on Daily Life and Occupational Participation at Home Among Individuals with Parkinson's Disease. Poster presented at the Virtual OTD Capstone Symposium, University of St Augustine for Health Sciences. Retrieved from https://soar.usa.edu/otdcapstonespring2020/20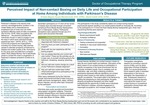 Included in
COinS