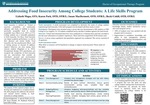 Description
Background: Food insecurity, or the "limited or uncertain availability of nutritionally adequate, safe foods, or inability to acquire personally acceptable food in socially acceptable ways," is becoming a prevalent problem. College students are one of the susceptible groups to food insecurity, impacting many aspects of a student's daily life. At present, there is limited OT-based programming that addresses the multiple internal and external factors of food insecurity in college students.
Purpose: The purpose of this capstone project was to develop a life skills program for college students experiencing food insecurity. The program aimed to address internal and external factors of food insecurity, such as money management, meal planning, and opportunities and knowledge of resources in the community. The theoretical frameworks used to guide the development and implementation of the program were the Model of Human Occupation and Person-Environment-Occupation model.
Methods: A survey using a combined qualitative and quantitative approach and semi-structured interviews were completed to determine the needs of students at CBD College in Los Angeles, CA. This program was developed to focus on helping students manage food insecurity using life skills. The program was a 5-week program that addressed one topic a session: time management, nutrition/healthy eating, budgeting/money management, meal planning and preparation, and stress management. Outcomes were measured with pre and post knowledge checks for each session/topic, a post-program survey, and a student satisfaction survey. Overall, students were very satisfied with the program and demonstrated improved knowledge, ability, or confidence in each of the life skills discussed.
Results: The results of this program indicate that the field of occupational therapy can contribute to supporting this population. Occupational therapists have a role in creating and implementing a life skills program to assist college students experiencing food insecurity. The sessions of the program should cater and address the needs of the students.
Publication Date
Fall 12-9-2021
Publisher
University of St. Augustine for Health Sciences
Medical Subject Headings
Food Insecurity, Diet, Healthy, Students, Adult, Nutritional Status, Occupational Therapy
Disciplines
Occupational Therapy | Public Health
Recommended Citation
Mapa, L., Park, K., MacDermott, S., & Cohill, B. (2021, December 9). Addressing Food Insecurity Among College Students: A Life Skills Program. Poster presented at the Virtual OTD Capstone Symposium, University of St Augustine for Health Sciences. Retrieved from https://soar.usa.edu/otdcapstonesfall2021/7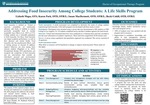 Included in
COinS