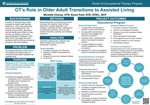 Description
Background: The transition of moving to an assisted living facility as an older adult can be accompanied by many physical and psychological challenges affecting adjustment to such a facility. Occupational therapists assist clients as they prepare for and cope with major life transitions, however this role is most often seen in childhood and early adulthood transitions. Occupational therapists are skilled at facilitating the re-establishment of roles, habits, routines, and rituals and are knowledgeable in how the environment serves as a major influence on this. Because of this, it would be ideal for occupational therapists to have a role in facilitating older adult transitions into assisted living facilities.
Purpose: The purpose of this project was to ease the transition into assisted living for older adults through staff training and education. The intent of these trainings was to decrease negative outcomes post transition into ALFs. The purpose was also to advocate for a role for occupational therapists in this transition process.
Methods: A needs assessment was conducted to determine the specific needs of one assisted living facility using interviews and observations. From this assessment themes were developed using a SWOT analysis to inform the creation of a staff training program and to identify specific roles for an occupational therapist in this transition.
Results: It was revealed that there were deficits in staff knowledge in areas such as transition processes and influences, cognition strategies and approaches, caregiver burnout and compassion fatigue and its influence on transition, and how to facilitate stress management strategies. Because of this, a staff educational training program was created to address each of these areas as well as three educational handouts as educational resources for new residents and families beginning the transition process.
Publication Date
Fall 12-9-2021
Publisher
University of St. Augustine for Health Sciences
Medical Subject Headings
Compassion Fatigue, Caregiver Burden, Assisted Living Facilities, Occupational Therapy, Needs Assessment
Disciplines
Occupational Therapy
Recommended Citation
Chavez, M., & Park, K. (2021, December 9). OT's Role in Older Adult Transitions to Assisted Living. Poster presented at the Virtual OTD Capstone Symposium, University of St Augustine for Health Sciences. Retrieved from https://soar.usa.edu/otdcapstonesfall2021/4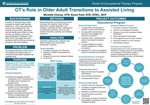 Included in
COinS