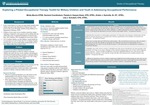 Description
In the United States (U.S.) there are more family members than military personal in the Department of Defense force with 62.8% of the 2,619,788 family members are children. Research indicates that children of active-duty service members experience unique challenges compared to same age peers due to military life and culture that create occupational disruptions. Research has shown that evidenced based interventions and assessments are needed to support the resilience of military connected children and youth to support their overall health and mental health resulting from the effects of parental deployment and military stressors.
The problem is that despite growing literature there is not an evidence-informed assessment for occupational therapists to utilize for military connected children and youth who face these social, academic, psychological, and behavioral health problems secondary to parental military service. As a result, military connected children and youth's occupational performance may be affected, including social participation and academic roles.
The purpose of this capstone project was to explore the feasibility of an evidence-based screening tool that can be used by occupational therapists to screen for occupational performance deficits and address mental health concerns in military connected children and youth.
This qualitative study contributes to the literature of military connected children and youth and of occupational therapists in addressing mental health.
Publication Date
Fall 12-10-2021
Publisher
University of St. Augustine for Health Sciences
Medical Subject Headings
Military Personnel, Child, Adolescent, Mental Health Services, Mass Screening, Occupational Therapy, Qualitative Research
Disciplines
Mental and Social Health | Occupational Therapy
Recommended Citation
Murcio, M., Kasyan-Howe, P., Domville, K., & Schubert, L. (2021, December 10). Exploring a Piloted Occupational Therapy Toolkit for Military Children and Youth in Addressing Occupational Performance. Poster presented at the Virtual OTD Capstone Symposium, University of St Augustine for Health Sciences. Retrieved from https://soar.usa.edu/otdcapstonesfall2021/31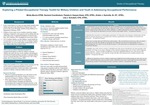 COinS