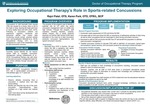 Description
Background: Concussions or mild traumatic brain injuries are caused by a bump, blow or jolt to the head or body causing the head and brain to move rapidly back and forth inside the skull (CDC, 2019). Concussions are one of the most common sports injuries reported in the pediatric population (Browne & Lam, 2006). According to the Center for Disease Control, from 2010-2016, a yearly average of 283,000 children, aged 17 and younger, checked into an emergency department for a sports recreation related concussion (CDC, 2019).
Purpose: The purpose of this program is to better understand occupational therapy's role in sports related concussions. This program increased awareness on returning a student safely into sports and school after a concussion. The program also aims to increase awareness of OT role within this setting through education and advocacy in the high school setting.
Program Implementation: A needs assessment was conducted at a medical clinic with a sports medicine physician and a high school with a family medicine physician and head football coach. The needs assessment results indicated a lack of knowledge on concussions and concussion protocol among all coaches including football, basketball, tennis, badminton, and volleyball and teachers. The needs assessment also indicated a lack of knowledge on OT role within this population. Therefore, this program provided educational materials that may act as a concussion guide to all staff at the high school and advocated for the role of OT within this population.
Results: Feedback was requested from staff members at a high school to determine how beneficial the educational handouts were through an online survey. Results indicated the educational handouts were useful, increased knowledge, confidence, and were easily accessible to all staff, students, and parents at the high school.
Conclusion: This program concludes there is a lack of knowledge and access to educational materials regarding concussions, concussion recovery, and post-concussion protocols in the high setting for teachers, coaches, and students. It also concludes a lack of knowledge of OT role within this population. Educational handouts on concussion protocol were delivered to the team physician and head football coach of the high school. This program advocated the role an OT may provide within this population and hopes to make OT a permanent member of the concussion management team.
Publication Date
Fall 12-9-2021
Publisher
University of St. Augustine for Health Sciences
Medical Subject Headings
Brain Concussion, Athletic Injuries, Adolescent, Health Education, Occupational Therapy, Needs Assessment, Surveys and Questionnaires
Disciplines
Occupational Therapy
Recommended Citation
Patel, R., & Park, K. (2021, December 9). Exploring Occupational Therapy's Role in Sports-related Concussions. Poster presented at the Virtual OTD Capstone Symposium, University of St Augustine for Health Sciences. Retrieved from https://soar.usa.edu/otdcapstonesfall2021/14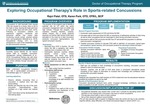 Included in
COinS