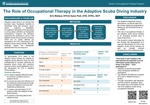 Description
Background: Adaptive scuba diving is an activity that provides many therapeutic benefits to individuals living with physical, visual, and/or cognitive disabilities. Occupational therapists (OTs) specialize in using valued activities as therapeutic interventions, however, the literature supporting the profession's value in the adaptive scuba diving industry is limited. There are no clearly defined job descriptions for OTs contributing to the adaptive scuba diving industry although evidence shows the therapeutic potential that OTs can contribute to it.
Purpose: The purpose of this project is to demonstrate OT's value in the adaptive scuba diving industry by creating an adaptive diving reference book for dive professionals to increase readiness for assisting divers living with cognitive, physical, and/or visual disabilities; and to create 2 job descriptions for OTs working in adaptive diving settings.
Methods: Qualitative data was gathered from 2 groups who reviewed the reference book: dive professionals and healthcare professionals. The dive group was sent a draft copy of the reference book along with instructions for completing a post-review survey via Microsoft Forms. The healthcare group was sent specific chapters of the book depending on their area of expertise and returned written feedback via email. The data was analyzed using Braun and Clarke's (2006) thematic analysis method as well as Microsoft Forms' response analysis.
Results: There were 23 dive participants who completed the post-review survey and 7 healthcare participants who provided written feedback. From the data for the dive group, 3 themes were identified: Reader Readiness and Knowledge, Value and Awareness of Reference Book, and Filling Gaps in Resources. From the data for the healthcare group, 2 themes were identified which were Edits and Content Suggestion.
Conclusion: The findings support an increased role of occupational therapists in the adaptive scuba diving industry. Scuba diving and diving related activities provide many therapeutic benefits for those living with physical, cognitive, and/or visual challenges. Although occupational therapists are experts in task, environment, and equipment adaptations as well as using occupation-based interventions, they are not widely considered to be contributors in this setting. This project lays a foundation for the role of an adaptive scuba diving occupational therapist.
Publication Date
Fall 12-9-2021
Publisher
University of St. Augustine for Health Sciences
Medical Subject Headings
Diving, Occupational Therapy, Health Personnel, Surveys and Questionnaires
Disciplines
Occupational Therapy
Recommended Citation
Wallace, E., & Park, K. (2021, December 9). The Role of Occupational Therapy in the Adaptive Scuba Diving Industry. Poster presented at the Virtual OTD Capstone Symposium, University of St Augustine for Health Sciences. Retrieved from https://soar.usa.edu/otdcapstonesfall2021/13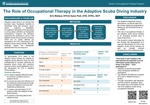 Included in
COinS