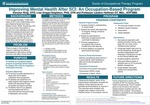 Description
The purpose of this project was to assess the effectiveness of occupational therapy in promoting positive mental health in those with SCI. Formal conversations related to mental health as well as various leisure activities took place throughout the program. The leisure activities were determined prior to initiating the program during the needs assessment. These were activities that the participants were either familiar with or novel. The activities were client-centered and modified as necessary to meet the client's needs for full participation. The objectives of this capstone were to conduct a needs assessment to understand what factors could be changed to improve mental health. Other objectives were to develop and implement a health promotion program that supports mental health and wellbeing through leisure activities, as well as to identify how occupational therapy can address and help people with SCI to overcome barriers that would lead to depression and anxiety. Lastly, a post-program survey was used to gather feedback from the participants.
The gap in research remains regarding how participation in occupations, such as leisure, may positively affect mental health. Accessibility to more mental health programs will decrease the prevalence of depression and anxiety among individuals with SCI. The goal was to instill a safe atmosphere and to provide an optimistic outlook for the transition to a new way of life.
This project collected information about the SCI experience and the struggles of mental health from individuals to allow for further exploration of occupational performance.
Publication Date
4-12-2022
Publisher
University of St. Augustine for Health Sciences
Keywords
Spinal Cord Injury, Mental Health, Resiliency, Occupation, Leisure Activity
Medical Subject Headings
Spinal Cord Injuries, Mental Health, Resilience, Psychological, Leisure Activities, Occupational Therapy
Disciplines
Mental and Social Health | Occupational Therapy
Recommended Citation
Ring, K. (2022, April 12). Improving Mental Health After SCI: An Occupation-Based Program. Poster presented at the Virtual OTD Capstone Symposium, University of St Augustine for Health Sciences. Retrieved from https://soar.usa.edu/otdcapstones-spring2022/39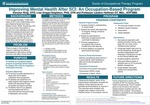 COinS