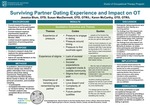 Description
Background: Limited research has been conducted that explores the experience of dating as a member of the surviving partner community. This study aims to address this gap in literature by capturing the dating experience for those who are surviving partners.
Method: A qualitative, phenomenological research design was used to gather data from thirteen surviving partners who have actively dated in the past, are currently dating, or are currently in a casual or serious relationship.
Results: Interview data revealed that the participants' dating experiences were impacted by their identity as a surviving partner. Participants reported experiencing pressure to engage in dating from their friends and family after losing their partner. Participants also experienced stigma from the general dating pool as well as judgment from inside and outside the surviving partner community. The importance of co-occupation to honor and remember their late partner with their current partner was a unique aspect of the surviving partner dating experience.
Conclusion: This research adds to the body of knowledge regarding the surviving partner dating experience as well as the importance of co-occupation. Occupational therapists need to inquire about dating during evaluation and be aware of the impact of the surviving partner identity on occupation.
Publication Date
4-14-2022
Publisher
University of St. Augustine for Health Sciences
Keywords
Occupational therapy, occupational therapists, judgment, research design
Medical Subject Headings
Bereavement, Interpersonal Relations, Survivors, Social Stigma, Occupational Therapy, Qualitative Research
Disciplines
Occupational Therapy
Recommended Citation
Blum, J., MacDermott, S., & McCarthy, K. (2022, April 14). Exploring the Experience of Dating as a Surviving Partner and Impact on Occupational Therapy. Poster presented at the Virtual OTD Capstone Symposium, University of St Augustine for Health Sciences. Retrieved from https://soar.usa.edu/otdcapstones-spring2022/12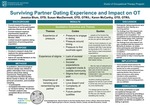 Included in
COinS