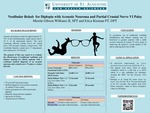 Vestibular Rehab for Diplopia with Acoustic Neuroma and Partial Cranial Nerve VI Palsy
Presented at the Summer 2018 Research Day on the St. Augustine, FL, campus of the University of St. Augustine for Health Sciences.
Description
The purpose of this case report is to evaluate the effectiveness of traditional vestibular and balance training for elderly patients with a combined medical diagnosis of an acoustic neuroma and cranial nerve VI palsy to reduce fall risk.
This paper has been withdrawn.