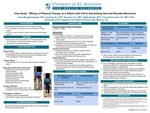 Description
Background & Purpose: Cerebrovascular Accident (CVA) is known as Stroke. It is a damage to the brain due to an interruption of blood supply. Two main types of stroke are ischemic stroke and hemorrhagic stroke. Ischemic stroke, the most common type of stroke, is due to a blocked artery and a hemorrhagic stroke is due to a leak or burst of a blood vessel. Signs and symptoms of stroke are presented contralaterally. The purpose of this case report is to demonstrate the use of PT interventions to improve shoulder function and gait mechanics in a post CVA patient.
Case Description: Patient is a retired 75-yo male who sustained a left ischemic CVA in 2017 with an insidious onset. Comorbidities include Central and Obstructive Sleep Apnea, HTN, and Benign Prostatic Hyperplasia. He has been receiving PT, OT, and SLP intermittently for the past 2 years. The patient's body structure and function impairments include balance and coordination deficits, R hemiparesis, impaired sensation RUE, decreased ROM of RUE, RUE partial flexor synergy, difficulty speaking, right homonymous hemianopsia, and decreased endurance. Activity limitations include difficulty walking greater than 1 mile and inability to reach overhead with the RUE. Participation restrictions include difficulty cooking independently (I) and socializing in groups due to his speech impairment. Specific interventions included balance and gait training, therapeutic exercise and neuromuscular re-education for RUE and RLE, and patient education. PT services were provided 1 time per week for 4 weeks.
Outcomes: Patient had significant improvement in functional gait as well as awareness of ankle motion. Dynamic Gait Index (DGI) increased from 18/24 to 20/24 with improvements in alternating gait speed, ambulation with head turns, and pivoting on command compared to pre-test. Although his time for Timed Up and Go (TUG) went from 7 sec to 7.3 sec, he did not stumble as compared to the pre-test. Patient also demonstrated decreased RUE partial synergy during TUG and DGI. He was d/c from PT services with a plan to continue progressing shoulder flexion ROM, increasing endurance of R ankle dorsiflexors, and continuation of LE stretches to improve gait.
Discussion: For a patient who has experienced a CVA, scapulohumeral rehabilitation and gait training are effective PT management options to increase functional mobility and (I). This study supports previous research for the effectiveness of scapulohumeral rhythm in increasing shoulder ROM and gait training in implementing proper gait mechanics, efficiency, and endurance. Although the patient's stroke had occurred two years ago, the patient was able to make significant functional improvement with shoulder ROM and improved quality in gait mechanics. The outcome of this study may help guide future clinicians in decision making with stroke patients who need improvement with shoulder ROM and gait mechanics.
Publication Date
12-13-2019
Keywords
Stroke, Walking, Gait, Shoulder, Range of Motion, Articular, Exercise Therapy, Physical Therapy Modalities, Male, Humans
Disciplines
Occupational Therapy | Rehabilitation and Therapy
Recommended Citation
Mongkolvipakul, J., Orr, A., Lim, Q., Basati, R., & Alshammari, F. (2019, December 13). Case Study: Efficacy of Physical Therapy on a Patient with CVA in Normalizing Gait and Shoulder Mechanics. Poster presented at the Campus Research Day Symposium, University of St Augustine for Health Sciences. Retrieved from https://soar.usa.edu/casmfall2019/13 Mongkolvipakul, Jane; Orr, Amanda; Lim, Queenie; Basati, Rajbir; and Alshammari, Faris, "Case Study: Efficacy of Physical Therapy on a Patient with CVA in Normalizing Gait and Shoulder Mechanics" (2019). San Marcos, Fall 2019. 13.
Retrieved from https://soar.usa.edu/casmfall2019/13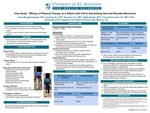 Included in
COinS