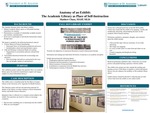 Description
This exhibition project addresses the central question: How can we creatively transform academic library spaces to support and engage students in critical information literacy? The project used physical library space to install a series of exhibitions at the San Marcos Campus Library of the University of St. Augustine for Health Sciences. Guided by the theoretical frameworks of Foucauldian perspective on knowledge and discourse, Falk and Dierking's Contextual Model of Learning, and critical librarianship, the exhibit series engages students in a self-guided journey to discover and evaluate how knowledge is constructed, produced, and disseminated. Particular focus is directed to the Fall 2019 Theatre of the Body exhibit, in which Renaissance-era anatomical illustrations are displayed in the library accompanied with information about the socio-cultural history of human anatomy as a legitimized medical and academic practice. Students, faculty, and staff learned about the history of ethics concerning the use of cadavers, the technological advancements and educational power of anatomical illustration, the overlooked gaps in history regarding anatomists of color, and other topics of human anatomy. Preliminary qualitative data showed a positive reception to this exhibition by students, faculty, and staff as an engaging, critical discourse about human anatomy.
Publication Date
Fall 12-13-2019
Keywords
Exhibits as Topic, Information Literacy, Libraries
Disciplines
Educational Sociology | Information Literacy | Library and Information Science | Scholarship of Teaching and Learning
Recommended Citation
Chase, M. (2019, December 13). Anatomy of an Exhibit: The Academic Library as Place of Self-Instruction. Poster presented at the Campus Research Day Symposium, University of St Augustine for Health Sciences. https://soar.usa.edu/casmfall2019/3
Creative Commons License


This work is licensed under a Creative Commons Attribution-Noncommercial-Share Alike 4.0 License.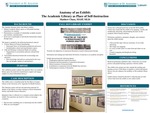 COinS