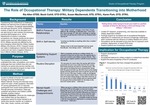 Description
Background: Motherhood is a time of adjustments and changes. Mothers are learning how to balance taking care of a newborn, household responsibilities, and self-care. Adjustments of routine in everyday occupations can change quickly as the baby's needs evolve over time and established routines are disrupted and new routines are created. For military spouses, military culture and lifestyle can affect adjustments to motherhood as well including deployments, frequent moves, and reestablishing support systems. An in-depth literature review revealed that there is limited occupational therapy research, programming, and resources available to military dependent mothers
Purpose: The purpose of this study was to further understand the roles, occupations, and routine challenges that new mothers face who are married to an active-duty service member and to create an educational program to help in this adjustment period of motherhood.
Methods: Phenomenological mixed methods study consisted of a survey and interview using Likert scale and open- ended questions. The data was analyzed using Braun and Clarke's thematic analysis method.
Results: There were 67 participants who completed the survey and 12 participants who participated in the semi-structured interview. From the data, 5 themes were identified which were Shift in Focus on Relationships, Shift in Self Identity, Establishing Support Systems, Routine Disruption, and Mental Health Challenges and Disappointments.
Conclusion: The findings support for an increased role of occupational therapists for new mothers married to active-duty service members. Adjustment to motherhood can become increasingly challenging when combined with the influence of military lifestyle and culture. Occupations can be disrupted at any time due to a spouse's work schedule, deployment, or recent PCS move. The sooner a mother can balance time with themselves and others, feel grounded in their self-identity, establish their support system and routine, and address mental health needs, the easier it is for them normalize their experiences and adjust more smoothly into motherhood. By understanding a mother's needs and collaborating with them on what is important, occupational therapists can assess and understand their environment to optimize their participation in meaningful occupations and help ease their role transition into motherhood.
Publication Date
Summer 8-12-2021
Publisher
University of St. Augustine for Health Sciences
Medical Subject Headings
Occupational Therapy, Military Personnel, Spouses, Mothers, Mental Health, Needs Assessment, Surveys and Questionnaires
Disciplines
Mental and Social Health | Military and Veterans Studies | Occupational Therapy
Recommended Citation
Allen, R., Cohill, B., MacDermott, S., & Park, K. (2021, August 12). The Role of Occupational Therapy: Military Dependents Transitioning into Motherhood. Poster presented at the Virtual OTD Capstone Symposium, University of St Augustine for Health Sciences. Retrieved from https://soar.usa.edu/otdcapstonessummer2021/23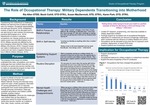 COinS