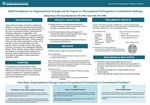 Description
Background: Organizational change, primarily in institutional settings, is necessary to prevent institutionalization as well as to reach the goals of the organizations. To support these goals, institutional settings, such as correctional facilities, often use restrictive measures including occupational deprivation. As a profession, occupational therapy recognizes the importance of occupational participation for all persons in society, however there is a gap in knowledge on the importance of how to promote and/or educate other entities on successful change management in different institutional settings.
Purpose: The purpose of this study is to understand how organizational culture impacts occupational participation in institutional settings and use this data to promote successful change management in institutional setting to meet the occupational needs of individuals and goals of the organization.
Methods: This descriptive, qualitative study aimed to answer the question, "How does organizational change impact occupational participation in correctional facilities?". The study utilized convenience sampling to recruit participants for semi-structured interviews who have a history of working in a correctional facility. Data from the interviews were analyzed using thematic analysis.
Preliminary Results: Thus far, the study consists of four participants with varying years of experience working in corrections, job positions held, and their specific associated facilities. Using thematic analysis, three themes emerged as the shared experiences and perceptions of correctional staff participants.
Discussion: Occupational therapists have a unique skillset to act as change agents and inform organizational change beyond correctional settings. This study will continue with more interviews and survey instruments with correctional staff participants to potentially further identify themes associated with organizational changes to promote successful and sustainable change.
Publication Date
Fall 12-9-2021
Publisher
University of St. Augustine for Health Sciences
Medical Subject Headings
Correctional Facilities, Organizational Culture, Change Management, Occupational Therapists, Attitudes, Surveys and Questionnaires
Disciplines
Law Enforcement and Corrections | Occupational Therapy
Recommended Citation
Pearce, S., MacDermott, S., & Park, K. (2021, December 9). Staff Perceptions on Organizational Change and Its Impact on Occupational Participation in Institutional Settings. Poster presented at the Virtual OTD Capstone Symposium, University of St Augustine for Health Sciences. Retrieved from https://soar.usa.edu/otdcapstonesfall2021/20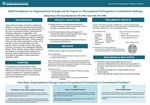 COinS