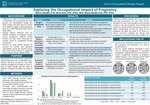 Description
Background: Pregnancy is a major transitional period accompanied by different physiological changes that can impact performance and engagement in meaningful and needed daily occupations. There is currently limited research that examines the transition to parenthood during the prenatal period through an occupational therapy (OT) perspective.
Objective: The purpose of this study was to explore the impact pregnancy has on an individual's roles, routines, and daily occupations. This study aimed to investigate this through an OT lens in order to better identify how the needs of pregnant individuals fall within the scope of OT.
Methods: Pregnant individuals participated in an online survey (n=42) and an optional one-time interview (n=8) to assess the occupational impact of pregnancy. Data collected was inclusive of changes in occupational participation, perceived barriers to engagement, and perceived shifts in daily routines.
Results: Survey data illustrated an overall average decrease in participation in focus areas of rest and sleep, sexual activity, social participation, physical activity, nutrition management, work and education, and home management during pregnancy. Four common themes were derived from participants' interviews including: change in occupational form, decrease in ability to participate in meaningful occupations, temporality impacting occupational engagement, and decrease in perceived quality of occupational engagement.
Conclusion: The results of this study indicated daily occupations that are impacted during pregnancy and the various ways in which occupations, roles, and routines are impacted throughout the span of the prenatal period. These results help identify how the needs of the pregnant population fall within the scope of OT practice.
Publication Date
4-14-2022
Publisher
University of St. Augustine for Health Sciences
Keywords
Occupational therapy, occupations, pregnancy, prenatal period, research
Medical Subject Headings
Pregnancy, Social Participation, Sexual Behavior, Exercise, Occupational Therapy, Interview
Disciplines
Occupational Therapy
Recommended Citation
Wutzke, M., Park, K., & MacDermott, S. (2022, April 14). Exploring the Occupational Impact of Pregnancy and the Role of Occupational Therapy During the Prenatal Period. Poster presented at the Virtual OTD Capstone Symposium, University of St Augustine for Health Sciences. Retrieved from https://soar.usa.edu/otdcapstones-spring2022/10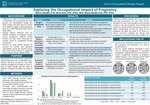 Included in
COinS